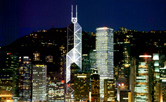 The Group has an 75.67% interest in Cheung Kong Infrastructure Holdings Limited (CKI). CKI is the largest publicly listed infrastructure company in Hong Kong with diversified investments in energy infrastructure, transportation infrastructure, water infrastructure, waste management and infrastructure related business. Operating in Hong Kong, Mainland China, the United Kingdom (UK), the Netherlands, Australia, New Zealand and Canada, it is a leading player in the global infrastructure arena.
CKI holds a 38.87% interest in Power Assets Holdings Limited (Power Assets), a company listed on Stock Exchange of Hong Kong.

In 2014, Power Assets completed the spin-off of HK Electric, through HK Electric Investments (HKEI), the first fixed single investment trust in Hong Kong with a focus on the power industry. Powers Assets currently owns 49.9% of HKEI.