Community Involvement
"We encourage our employees to play an active role in the communities where they live and work."
- HWL Group Policy
Community Involvement
We are proud of our efforts in giving back to the community. As members of the community that we cherish, the Group takes responsibility of seeing to its well-being seriously. Throughout 2014, the Group's companies and employees worked hand-in-hand with their local communities in a variety of initiatives that range from job creation to educating the next generation. Below are some examples of community activities that the Group was involved in during the year.
Community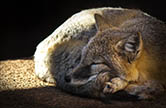 Our employees across the Group serve their communities in a number of ways. Some of these initiatives are highlighted below:
HWL Volunteer Team, organised by HWL Head Office, arranged a range of activities for the community in conjunction with various social organisations such as Tung Wah Group of Hospitals and Yan Oi Tong.
A S Watson held the fourth A S Watson Global Volunteer Day with 33 business units participating. With a theme of "We Bring More SMILES to Life", A S Watson employees participated in a wide array of activities including helping underprivileged children, giving an elderly home garden a makeover, and cleaning beaches.
Hutchison Telecommunications Hong Kong Holdings ("HTHKH") celebrated its 30th anniversary with the Donation Matching Programme. Donations from staff were matched dollar-for-dollar by the company to help eight non-profit organisations. These organisations are involved with education, alleviation of poverty, medical and rehabilitation services, and environmental protection.
In Hong Kong, HK Electric pledged to freeze its tariffs for the second year. The company also reached out to care for local retirees and the elderly.
In Canada, Husky Energy provided CAD250,000 to the Mikisew Cree First Nation's Kahkiyow Keykanow elderly centre to provide care for elders requiring assisted living or end-of-life care.
Staff from Hutchison Korea Terminals participated in the "2014 HKT Volunteer Community Service Day" by giving their time to serve as canteen staff at a school for underprivileged children.
In the UK, 3 UK created the Community Fund where employees can nominate charities or causes they support. Teams across the business are also encouraged on a "Charity Challenge" on behalf of a charity of their choice with money they raised being match-funded by the Community Fund.
Education
Since 2002, the Hutchison Chevening Scholarships has provided opportunities for young postgraduates from Hong Kong and the Mainland to pursue their studies in the UK universities. Over the past decade, the Group has donated over £6.5 million, benefiting over 710 students.
HPH Dock School Programme took many schools from around the world under their wings, meeting their individual needs such as musical instruments, school visits or improving their classroom facilities. For more information on the Dock School Programme, go to www.hph.com.
In Shanghai, China, colleagues of the property unit formed the Hutchison Whampoa Property Group ("HWPG") Shanghai Volunteer Team and volunteered two months at the Shanghai Library. Also in China, the HWPG Qingdao Volunteer Team helped raise public awareness and support for children with Autism through working with local schools and foundations. Shanghai Hutchison Pharmaceuticals continue to contribute to rural communities, setting up two new libraries in Shandong and Gansu provinces.
In Hong Kong, chefs at Harbour Plaza Hotel Management helped raise funds for children with special needs and their families.
In Canada, Husky Energy supported the creation of an employment training centre in St John's Newfoundland and Labrador, and donated a specialised simulator and software to Lloydminister's Lakeland College to help students get hands-on learning.
Medical and Healthcare
Healthcare initiatives can be in many forms. From medical technologies to preventive exercises, all these are important to the well-being of our community. The following highlights activities that various companies within the Group have engaged in.
In Ireland, 3 Ireland employees and their children held a special Halloween party to raise funds for The Down Syndrome Centre.
In Hong Kong, the A S Watson Lifestyle Club held a "Step Up for Health" campaign, drawing 600 employees to walk up 299 steps together in the morning.
Hutchison Telecom Lanka in Sri Lanka, is supporting the roll out of an advanced Patient Management System that will help revolutionise patient data collection and management. The system will provide an electronic backup of patient records within the hospital as well as ensure patients receive reminders via SMS on important follow-up and vaccination appointments.
Arts and Culture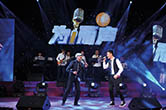 In 2014, the Group participated in a number of charitable activities in the arts and cultural arena, as highlighted by the following initiatives:
In China, HWPG brings art and entertainment into their business. For example, a project launch included hosting a dancing competition that gave local performers the chance to shine and go on a dancing tour around the world.
In Hong Kong, Metro Radio and their talented hosts organise philanthropic activities, mixing art with community work.
Sports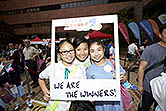 A healthy lifestyle is important to our employees and the well-being of those in our communities. Around the Group, some of our group companies may participate in sporting events or encourage local communities to improve their overall health. Some examples of our involvements are listed below:
In 2014, A S Watson held the ninth Hong Kong Student Sports Awards, which involved 80% of primary, secondary and special schools in Hong Kong. This year, 913 student athletes were recognised with a certificate and a scholarship.
Watsons Water provided high quality distilled water and isotonic drinks for 73,000 athletes at the Hong Kong Marathon.
HTHKH staff raised money for the Hong Kong Paralympic Committee and Sports Association for the Physically Disabled.
Colleagues at 3 Denmark cycled over 18,000 kilometers in the course of a month to raise funds for Children with Cancer.
Disaster Relief
The impact of natural disasters and accidents are not only confined to its victims but also to their communities. As active participants in the well-being of their local communities, HWL Group companies are quick to respond to such disasters. For example, in Taiwan, TOM Group's Sharp Point Publishing organised charity auctions on signed edition of light novels to raise funds for the victims of 2014 Kaohsiung gas explosions.