Workplace Quality
"The Group is committed to providing a work environment that is free from all forms of discrimination on the basis of race, ethnicity, gender, creed, religion, age, disability or sexual preference."
- HWL Employment Policy
Working Conditions
Year 2012 is marked by continued economic and financial uncertainties in many markets. Even so, over the past year, HWL has been growing organically and through acquisitions. In order to retain talent, the Group invests and rewards employees according to their performance and productivity. HWL is proud of its team of highly motivated employees, which has enabled the Group to take advantage of opportunities as they arise. Employees' remuneration is reviewed individually on an annual basis to ensure the packages are fair and competitive. HWL provides comprehensive medical, life and disability insurance coverage and retirement schemes. To promote camaraderie across the Group, employees also enjoy a wide range of product and service discounts offered by various Group companies.
Health and Safety
A safe, effective and congenial work environment is important to protecting our most important asset, our staff. In addition to observing the international labour standards and laws where each business operates, many operating companies also have internal guidelines and systems specific to their industries to protect and ensure the health and safety of our employees. Some companies have teams dedicated to workplace safety, sourcing and providing appropriate tools and training to employees to discharge their duties. Power Assets, for example, won safety awards granted by the British Safety Council, Hong Kong's Occupational Safety and Health Council among others. Across the Pacific, Husky Energy employs a systematic approach to study operating practices and develop a consensus on the best and safest practices. Husky Energy also developed an on-line safety orientation for its staff and contractors. Last year also marked the inaugural CEO's Awards of Excellence for Process and Occupational Safety for accomplishments in 2011 at Husky Energy.
Development and Training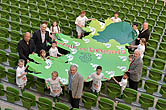 The Group is committed to the personal development of its employees as well as their professional growth, and invests heavily in its people. Dedicated and motivated employees across the Group are provided with development and advancement opportunities as the Group expands its businesses worldwide.
Each division is responsible for developing their own training to meet specific business requirements. These trainings take numerous forms including internal and external training courses, e-learning modules that are designed to challenge employees and broaden their skill sets, and on-the-job training. Tailor-made programmes help employees meet the ever changing needs of the marketplace in their specific business arena, and give them the tools to stay competitive. These programmes include IT skills, presentation techniques for managers, sales and customer service. Some of the Group's companies also provide educational subsidies and study leave for employees looking to deepen their knowledge on studies relevant to their jobs or functions.
In addition, HWL provides continuous professional development training to its directors and senior management to develop and refresh their knowledge and skills. These include workshops and seminars on leadership development, corporate governance practices as well as updates on regulatory developments and requirements.
Employees are important assets of the Group. HWL believes that investing in employees is essential to the future strength and success of its business.
Recruitment and Promotion
The Group believes in nurturing and developing top talents regardless of race, colour, gender, age, or religious belief. The Group has a policy to ensure all employees and job applicants enjoy equal opportunities and fair treatment. Operating in over 50 countries worldwide, the Group is made stronger through diversity and values the input and contributions by people of all backgrounds.
The Group deploys stringent recruitment procedures to prevent child or forced labour.
Fellowship and Camaraderie
As part of our corporate culture and commitment to our employees, numerous activities are organised throughout the year to promote camaraderie and morale amongst staff.
In Hong Kong, the Head Office organises activities and volunteering opportunities that bring together employees from different divisions to promote team spirit as well as service to the public. Individual operating companies also organise numerous activities and events to serve the local communities. Numerous operating companies also have innovative activities for their staff. These range from bowling tournaments organised by the Group and table tennis tournaments organised by the Harbour Plaza Hotels to Yoga and Thai-boxing courses by the A S Watson Group.
Continuing an annual tradition, the Group held a fun day at a local amusement park for its Hong Kong employees and their families. Approximately 7,000 employees and their families joined a day of fun and fellowship with colleagues in other business sectors. The Company also organised outings for staff and their families to outlying islands of Hong Kong.