Stakeholder Engagement
"HWL is committed to enhancing long-term shareholder value through regular communication with its shareholders, both individual and institutional."
- HWL Shareholder Communication Policy
Shareholders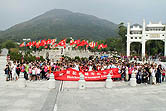 In 2012, the Group has updated its Shareholder Communication Policy in order to further strengthen dialogue, and expand channels of communication with our shareholders.
The Group carries on periodic discussions with the financial community including analysts, fund managers and other investors, to increase our transparency to the market. Shareholders are also encouraged to participate in shareholders' meetings physically or proxies to attend and vote at the meetings.
The Shareholder Communication Policy is available on our corporate website: www.hutchison-whampoa.com.
Customers
Customer feedback is invaluable as the Group operates in extremely competitive markets. Various operating companies have a number of channels to solicit customer comments and recommendations such as customer service centres, focus groups, and where appropriate, social networking tools. An increasing number of our retail customers are now getting the latest news and information of our products and services through social media pages and apps on their smartphones.
Employees
The HWL family numbers over 250,000 employees who work in over 50 countries worldwide. HWL is committed to providing staff training and development programmes designed to help our employees to enhance their knowledge and skills as well as self-enrichment. These employees who embody the virtue of team spirit are the backbone of our businesses. As the Group continues its expansion, opportunities abound worldwide for industrious and hardworking employees in numerous sectors and industries.
In 2012, Hutchison Telecommunication Hong Kong Holdings ("HTHKH") was named an Asia's Best Employer Brand by Employer Branding Institute while ICI PARIS XL Belgium was awarded Excellence in employee engagement.
3 Italia was also recognised with a Family & Work Award for its programme for its employees by the Lombardy Region. In Canada, Husky Energy was named Employer of Excellence by the Saskatchewan Association of Rehabilitation Centres recognising Husky Energy's commitment in assisting individuals with disabilities obtain meaningful employment. These are just some of the many awards recognising the Group's efforts in this area.
Suppliers and Creditors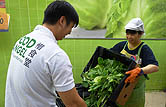 As a multinational operating in numerous jurisdictions, upholding laws and regulations that are relevant to the businesses is a top priority for HWL. HWL Head Office has implemented a policy on vendors and suppliers based on the United Nations Global Compact. These requirements on our partners include non-discriminatory hiring and employment practices, a safe and healthy workplace, compliance with environmental laws and prohibition of child labour.

HWL continues to monitor international best practices and adopts those that are relevant to its businesses.
Government
The Group operates in a range of sectors and industries, including ports, property, hotels, retail, infrastructure, energy, and telecommunications. Many of these industries are subject to the jurisdictions of local and international regulators.
Along with different government laws, rules and regulations, each operating company makes tremendous effort to ensure that it is compliant with the relevant local laws and customs.