Environmental Protection
"HWL is committed to minimising the impact of existing business activities on the environment..."
- HWL Group Policy
In order to enhance our operational efficiencies and reduce our environmental impact, HWL companies continued to improve and implement environmental protection and energy efficiency programmes worldwide throughout 2012.
Each major operating company has programmes that minimise the impact of their activities on the environment in different ways.
Below is a snapshot of some of the activities that the businesses of the Group engaged in across the globe.
Energy Efficiency
For the past several years, HWL has been rolling out an IT initiative to help decrease unnecessary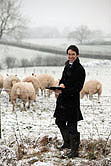 printing by encouraging employees to delete unnecessary images, text or pages, saving toner, paper and reducing greenhouse gases. This green office initiative has reduced paper usage by around 13 per cent and the company will continue to implement the system across the Group.
Across the Group, operating companies continue to strive to make their operations and logistic chains as energy efficient as possible. The infrastructure and energy divisions, being the larger energy usage divisions of the Group, run energy efficiency programmes, including using higher-efficiency lighting solutions, the latest communication technology and support tools in place of transportation.
Pollution Prevention and Emissions Reduction
Many of the Group's operating companies, especially those in the infrastructure and energy portfolios, have plans and metrics to reduce pollution and emissions throughout 2012. More detailed ESG and Sustainability reports are available on their individual websites.
Some of the notable accomplishments are highlighted below:
HK Electric has completed a 1-year wind monitoring campaign at an offshore site about 3.5 km southwest off Lamma Island in end February 2013. Analysis of the wind resources indicates that the site is feasible for development of an offshore wind farm. Further study to investigate the soil conditions at the proposed site is being planned to ascertain the seabed condition for conceptual design of the wind turbine foundation. HK Electric also expanded its 550kW solar PV system in Lamma Power Station to 1MW in March 2013..
Husky Energy unveiled its carbon dioxide (CO2) capture and liquefaction project in Lloydminster. The facility converts approximately 250 tonnes of CO2 produced by the ethanol plant into a high-pressure liquid.
Cheung Kong Infrastructure and Power Assets invested A$33.6 million (HK$268.1 million) in a power transmission link in Victoria, Australia that will transport renewable energy from wind turbines at Mount Mercer Wind Farm to Victoria's power grid.
The following accomplishments, though smaller in scale, are equally significant in HWL's commitment to environmental protection.
HK Electric provides a number of charging stations for electric vehicles across the territory.
Hutchison Whampoa Property's ("HWPG") estate management companies are actively engaged with their residents to promote recycling and green projects such as used clothes collection and collecting for a food bank.
In the UK, Harwich International Port became the first port to be included in the Source East Electric Vehicle Recharging Network and will be including electric vehicles into its operations.
Environmental Sustainability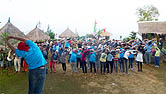 Safeguarding natural resources and reducing wastage are done across the Group in all industries. Our colleagues have participated in different programmes with partners as well as initiated some internally to best save resources for future generations. Here are some of the initiatives that took place over 2012:
Buerios Aires Container Terminal initiated an "Environment Taking Care Programme" which encouraged staff to segregate waste materials and donated to NGOs which use the money obtained from recycling the waste to help children in poor economic situations.
In the UK, Superdrug launched "Plan It Earth", an initiative that offers guidance and updates related to sustainability to its staff. In addition, it undertook lighting and waste management improvement projects.
In Hong Kong, HTHKH staff donated reused electrical home appliances, electronics, computers and books to the less privileged.
HWPG is also an active participant across the region for its work in providing channels for recycling valuable resources such as electronic waste, clothing, and even moon cake tin cans.
In Hong Kong, HK Electric's Clean Energy Fund encourages the application of renewable energy in school campuses across the territory.
In Australia, CitiPower and PowerCor developed and published their Environmental Sustainability Strategy. It outlines the vision, objectives and priorities to be an industry leader in sustainable environmental management.
Protection of the Environment and Natural Habitats
Protecting natural habitats for future generations is also an important part of many Group companies' initiatives.

Some of these programmes are detailed below:

Husky Energy, one of Canada's largest petroleum companies, has been an ongoing patron to the local species conservation efforts. With the company's support, the Husky Energy Endangered Species Programme at the Calgary Zoological Society, has helped advance the conservation of some of Canada's most threatened species such as the burrowing owl, the black-footed ferret, the swift fox, the black-tailed prairie dog and the northern leopard frog.

Northumbrian Water is actively conserving and enhancing its natural environment by managing their Sites of Special Scientific Interest ("SSSI"). SSSIs are the UK's noted wildlife and geological sites.

In the Netherlands, Europe Container Terminals (ECT) sponsored the Foundation of South Holland Landscape which preserves areas in South Holland. In addition to organising excursions with expert guides for its staff, ECT contributed to the construction of a modern, wheelchair friendly visitor centre at Tenellapas so that more people can enjoy nature's beauty.

CitiPower and Powercor partnered with Landcare in Australia to support combined school and community environmental projects. Their Landcare programme includes support for wildlife breeding projects, indigenous nurseries, soil carbon fixing projects and the revegetation and composting programmes.